About Us
Overview of Anyang Gemco Energy Machinery Co., Ltd:
Anyang Gemco Energy Machinery Co., Ltd. (GEMCO) is a manufacturer of machinery devoted to environmental protection, conservation and green energy. It is now the biomass machinery division belongs to ABC Machinery. Its facility is located in a "High and New Technology Industrialization Zone" in China's Henan province at a site with superior logistical connectivity. GEMCO manages its own R&D center and for many years has cooperated with a number of external R&D teams at institutions of higher education. After years of development, the company has perfected its processes of design, manufacture, installation, technical training and after sales service.
Among its peers, GEMCO was the first to qualify for both ISO9001:2000 and CE certification. Additionally, import and export qualification certificates were obtained from China's Commission of Foreign Trade and Economic Cooperation (COFTEC). The company's exports include a range of machinery for producing biomass energy, briquetting and oil presses. GEMCO's machinery is designed for its functionality and easy maintenance. The usable life of its key parts is twice that of its peers. GEMCO also boasts patented technology. The company has good standing in the domestic market and has exported its machines to 50 countries around the world, thus earning a favorable reputation internationally.
As global supplies of traditional energy sources are depleted, and as the need to protect the environment has become more urgent, biomass energy has moved to the forefront of the alternative energy movement due to its carbon neutrality. Anyang Gemco Energy Co., Ltd. seeks to increase the availability of machinery used to harness the power of biomass energy to ensure environmental protection and sustainable development.
Organizational structure of GEMCO: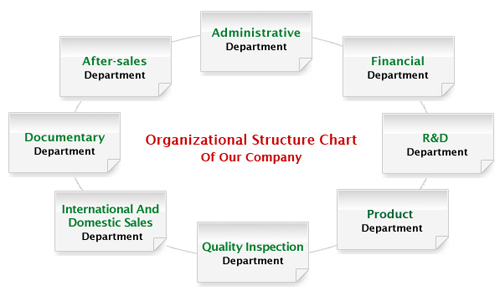 Certificates: