Hydraulic briquette press is used to make biomass briquettes by the high pressure generated by the oil in the cylinder. The raw material can be sawdust, straw, tree branches, twigs, rice husk, paperboard, and so on.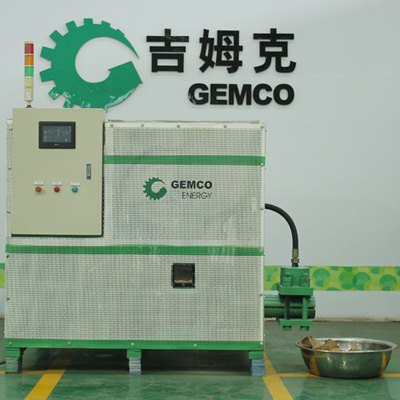 After the work of wood crusher or hammer mill, the material will be further pressed into dried biomass briquettes with higher density, so that, on one hand, simple storage and convenient transportation can be realized favorably, and on the other hand, the final briquettes can be employed as forage or fuel. In particular, briquettes as fuel boast energy-saving performance and less carbon emissions, also taken as a clean renewable energy of efficiency.
The form below shows its main technical data
| | |
| --- | --- |
| Model | GMC-YKY012 |
| Production capacity (Max.) | 120kg/h |
| Main power | 7.5kW |
| Briquette diameter | 70mm |
| Storage bin volume | 0.45m3 |
| Machine weight | 1000kg |
Consistence of this hydraulic briquette press
The GMC-YKY012 hydraulic briquette press machine mainly consists of mechanical system, hydraulic system and electrical system.
How the hydraulic briquette press works

After being pulverized, raw material will be extruded into briquettes via the hydraulic briquette making machine, with the moisture content of about 12%. Specifically, feedstock is loaded into a material bin, transmitted through a screw conveyor to the briquetting cavity, and then pressed into blocks in sequence after the work of hydraulic cylinders and the mould. The final briquettes, with the forming density of 0.7-1kg/dm3, will be pushed out along with the slideway.
Advantages of this hydraulic briquette press
This hydraulic briquette maker has a holistic cover that keeps the operators away from hazards. Also, feeding observation hole, hydraulic pressure gauge and its switch are all on the cover to facilitate inspection and operation.
It is situated onto a solidly welded steel frame (seen as the underbed), is convenient to place in anywhere.
| | |
| --- | --- |
| | |
| Holistic cover | Shaping system |
The forming system of this hydraulic briquette maker includes three hydraulic cylinders and the mould, with the moulding cavity linked to one end of the conveyor.
The hydraulic system is composed of hydraulic power unit, motion parts, and connecting parts.
The electrical control system, divided into auto and manual control parts, covers cabinet and internal components, including control touch screen, PLC and other components.
| | |
| --- | --- |
| | |
| PLC control system | Three Layer warning lights |
Three layer warning lights are adopted. In operation, if the green light is on, it means the machine is in normal status. If the yellow light is on, means warning status, then you should see what warning message it is. If the red light is on, means the machine should be stopped. Then you should see which part it warns and stop the machine.
We have spent more than two years in researching and developing this GMC-YKY012 hydraulic briquette press machine. All humanized designs have been applied to this machine. The output is good, the hydraulic briquette press has won great reputation among its users. We are sure it will be your ideal choice for biomass briquette making.
Get In Touch Now!
We receive enquiries in English, Español (Spanish), Русский язык (Russian), Français (French) and العربية (Arabic). Our professional team will reply to you within one business day. Please feel FREE to contact us!
Your privacy is important to us,we are committed to marking sure your privacy is confidential.